Structure
Department Head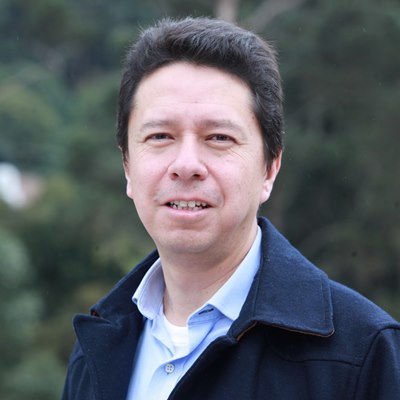 The July 29 2013, Harold Castro Barrera was appointed by Universidad de los Andes as the DISC's Department Head.
Harold has a professional training in Systems and Computing Engineering at Universidad de los Andes, D.E.A. en Informatique and Doctorat en Informatique at l'Institut National Polytechnique de Grenoble, France. Furthermore, Harold is the COMIT head, which is a research group on Communications and Information Technology.
He has also led activities about Grid and Cloud Computing at national level like Grid Colombia and he has been part of international projects like EELA and GISELA in order to establish a Platform using High Performance Computing between Europe and Latin America.
He also seeks to strengthen research and increase demand for DICS´s programs to achieve the main goal of agile government on education.
Council of DISC

DISC is composed by its head of department, academic and program coordinators, infrastructure staff, and all our faculty.
Additionally, the Graduate School has a committee composed by its academic and program coordinators, administrative coordinator and our head of department. Also, each program has an academic committee composed by its coordinators and faculty involved in these programs.
Support Staff
Search for:
Yomara Rincón

Administrative and Financial Manager

This email address is being protected from spambots. You need JavaScript enabled to view it.

3892

Maira Alejandra Espitia

Administrative and Academic Assistant

This email address is being protected from spambots. You need JavaScript enabled to view it.

2861

Nataly Quintero

Administrative Assistant

This email address is being protected from spambots. You need JavaScript enabled to view it.

1872

Dorys Bolivar

Administrative Assistant

This email address is being protected from spambots. You need JavaScript enabled to view it.

2860

Carlos Rozo

Administrative Assistant

This email address is being protected from spambots. You need JavaScript enabled to view it.

2862

Shurys Zambrano

Laboratory Technician

This email address is being protected from spambots. You need JavaScript enabled to view it.

2872
Program coordinators
Search for:
Jorge Villalobos Salcedo

Coordinator: Master of Architectures of Information Technology MATI

This email address is being protected from spambots. You need JavaScript enabled to view it.

3052

Oscar González

Coordinator: Master of Business Information Technology MBIT

This email address is being protected from spambots. You need JavaScript enabled to view it.

1818

Marcela Hernández

Coordinator: Master of Computational Biology MBC

This email address is being protected from spambots. You need JavaScript enabled to view it.

2902

Harold Enrique Castro Barrera

Coordinator: Master of Information Security MESI

This email address is being protected from spambots. You need JavaScript enabled to view it.

2868

Claudia L. Jiménez Guarín

Coordinator: Master of Information Engineering MINE

This email address is being protected from spambots. You need JavaScript enabled to view it.

2865

Olga Mariño

Coordinator: Master of Systems and Computer Engineering MISIS

This email address is being protected from spambots. You need JavaScript enabled to view it.

1844

Rubby Casallas

Coordinator: Master of Software Engineering MISO

This email address is being protected from spambots. You need JavaScript enabled to view it.

2925

Jorge Villalobos

Coordinator: Specialization of Software construction ECOS

This email address is being protected from spambots. You need JavaScript enabled to view it.

3052